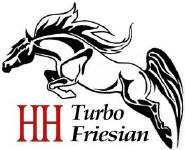 Turbo Friesian
In order to be eligible for the Turbo Friesian Book:
The horse must be a mixture of Friesian lineage and Arabian lineage.
The influence of any other breeds is not permitted. The Arabian pedigree
must be on file with the Arabian Horse Registry. Registered Turbo Friesians must
be DNA tested and be DNA verified to their Friesian lineage. The Turbo
Friesian may not exceed 75% of either Friesian or Arabian lineage.
The Turbo Friesian does not have the same criteria as the Arabo Friesian
and is not IS NOT affiliated with the Arabo Studbook.